I went to visit the Jean Paul Gaultier show at The Barbican in London this month (June 2014) which has over 165 of his couture and ready-to-wear garments and from a huge time frame of 40 years of his work. It was a view of his powerful fashion in one place. Just brilliant!
I was hoping it would be a great experience to see the clothes but it was beyond what I was expecting.

The way the show was put together was really great- there was a runway section where they had a moving platform with some of the clothes, as well as the information on how long these garments take to make, some of them have an incredible 300 hours put into them by various specialists in their fields – lace makers etc. It really put into perspective this idea of rushing to do things or get things done, sometimes at a cost of less than perfection but it has made me think that taking more time for the details are clearly worth it. Some of these clothes on display were epic.
It has really inspired me to be more mindful of detail and those elements that really make something more 'wow', there was a dress made from silk ties, and each tie was connected with a perfect hand stitched piece of thread with a single bead in the exact center, being able to see the care and precision that goes into these creations really transforms them into spectacular artworks. I really felt privileged to be looking at them.
The Fashion World of Jean Paul Gaultier: From the Sidewalk to the Catwalk is organised by the Montreal Museum of Fine Arts in collaboration with Maison Jean Paul Gaultier.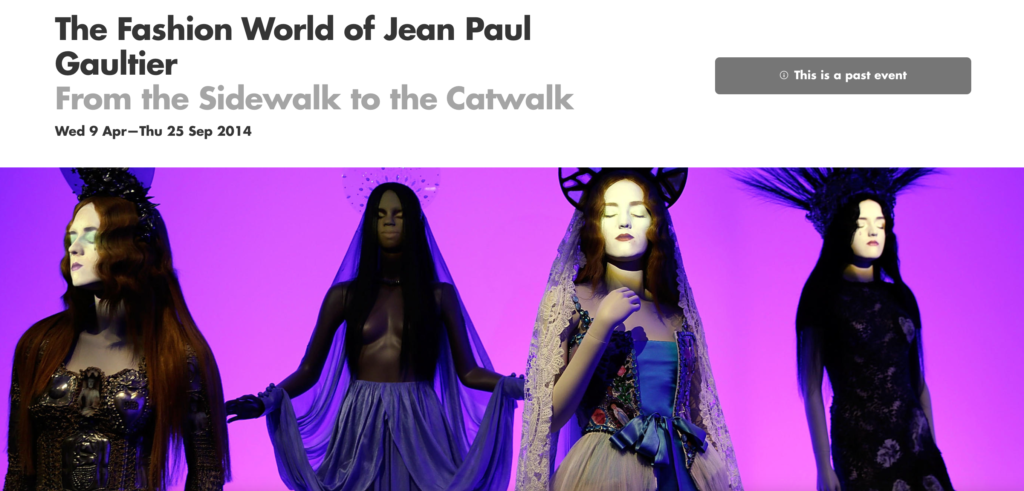 From the Barbican website: "Gaultier's reputation for witty, daring designs and a ceaseless interest in society, identity and beauty borne of difference earned him a place in fashion history. He is fascinated by world cultures and countercultures, conceiving a new kind of fashion in both the way it is made and worn.
This theatrically-staged exhibition brought together cutting-edge couture and ready-to-wear garments including iconic costumes for film and performance including the infamous conical bra and corsets Madonna wore during her 1990 Blonde Ambition World Tour, stage costumes for Kylie Minogue and from the films of Pedro Almodóvar.
His collaborations with renowned artists and photographers such as David LaChapelle, Pierre et Gilles, Herb Ritts, Cindy Sherman and Andy Warhol were shown together with footage of catwalks, concerts, music videos, films and dance."