I've included a list of my top 5 fabulous forums to go when you do need a little help, and keep in mind, if you see a project where you too have done a similar thing – please offer your help right back!
Here are my Five Fabulous Forums
My Current Favourite
Stack Exchange this is currently listed as being in beta but it's a great way to ask for guidance on your hardware and all things Arduino. Do read the posting rules first before you ask a question as it's there to help you get the best answer to help you get on your way.
I often need a little help with connections or components or projects I'm working on. Fortunately the Arduino Community are very generous and are happy to offer help and advice for your projects.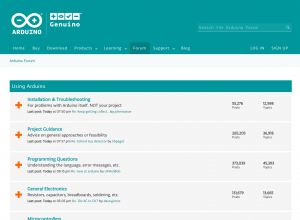 So there you go – five of the fabulous forums I go to, to be a part of the amazing Arduino Community, a great place to look for answers, ask your questions and of course help out as well when you feel ready!
---
BONUS: One bonus area to mention that you may look for help is Reddit which has a lot of people asking advice on their projects and people offering good answers and links.
High Five to Fabulous Forums!
(if you use an alternative please leave me a comment about where you go for advice, thanks!)