Delete an app in iOS while using Voice Over is easy enough to do once you know how. By default when Voice Over is on, it reads the icon that it is on and tells you that double tapping will open it. But what about when you want to delete the app?
Here are 4 simple steps to follow:
With Voice Over enabled, navigate to the app that you'd like to remove.
With that app icon highlighted, instead of double tapping to open it you should double tap and hold it down
you will hear a tone and the voice will tell you that you are, "moving, and it will say the application name"
double tap again which will confirm you want to delete with an alert message
you can choose Delete or Cancel by double tapping the selection to delete the app from your device or to cancel that operation
That's it, deleting an app in iOS with Voice Over is a little less straightforward but once you know then it's easy!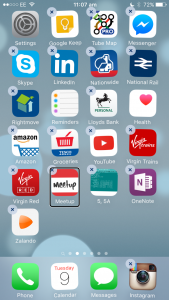 You can download the free pdf version of these steps as a reminder or for someone else.